Spring Sale Save 8% Automatically!

Introducing the New PiTTopper® Adjustable Storage Stand
Keep your PiTTopper ® stored nearby, but out of the way while enjoying a fire in your firepit.
Introductory Price of $109 w/ Free Shipping!

Fire Pit Lid Stand
PiTTopper®, is a protective cover for outdoor fire pits is made of high grade Steel and Stainless Steel with a durable powder coat painted finish to cover your outdoor fire pit, fire table, or built in side burners year round.
PiTTopper® provides excellent all weather protection for your woodburning fire pit or natural gas fire pit. We offer custom sizes and colors to fit your need for your custom brick fire pit or DIY fire pit call us to get your custom quote +1.937.324.7510.
We also have a wide selection of PiTToppers® for your store bought fire pit. PiTTopper® will extend the life of your purchase. Keep the weather out with a PiTTopper®, square fire pit or round fire pit cover.
PiTTopper® is an attractive alternative to fire pit covers currently on the market which made from nylon or canvas fabric, can become worn and torn after time, lose the ability to adequately protect your fire pit from inclement weather. PiTTopper®'s design has allowed it to stay in place during severe weather with winds up to 55 mph.
Made in the USA.
Customer Photos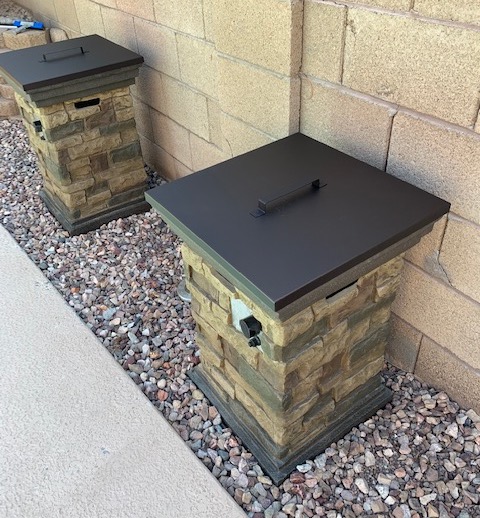 Customer Testimonials
"My pit cover arrived today, and it's exactly what I need. Great product! Thanks!
~ Denise W.
"Thank you for my new fire pit cover. Following your recommendation for measuring, the cover fits great. I opted for a top handle, but two handles came with it, so I put the second handle on the side. Great product!
~ Jess M.
"I want to thank you so much for the fast, excellent service for the fire pit topper I ordered from you. It fits perfectly and shows quality workmanship.
~ Kathy K.
"Hey guys, just received the PiTTopper® and it's perfect! Thanks very much for the great work, service, and impeccable packaging!"
~ Matt
"Fits great! Thanks guys. "
~ Dan
"My PiTTopper® arrived yesterday. Looks awesome! Cannot thank you enough for the help."
~ Karen
"Hi PiTTopper®! We received the lid for our fire pit and it fits perfectly. Thank you. Please pass on our thanks to your dad. You delivered it to us faster than we expected. Have a great weekend."
~ Mark & Donna
"Dear Bob and Mike, My new PiTTopper® looks great! Thank you for your great customer service."
~ Marilynn
"The fire pit topper arrived this week. It's just perfect. We appreciate the high quality of the workmanship and materials. The clean, minimal design of the topper melds with the beautiful aesthetics of our custom built patio and fire pit. We told our neighbors about y'all and they purchased one too. Great job! Thank you.
~ Craig C.